Join us and learn the latest advances in Breast Cancer Research, Genetic Testing, and Breast Imaging at the CBBC monthly meeting, March 17, 2019, 3 – 5 pm, at the Cancer Support Community, 360 E. Palm Lane, Phoenix. Guest speakers will be: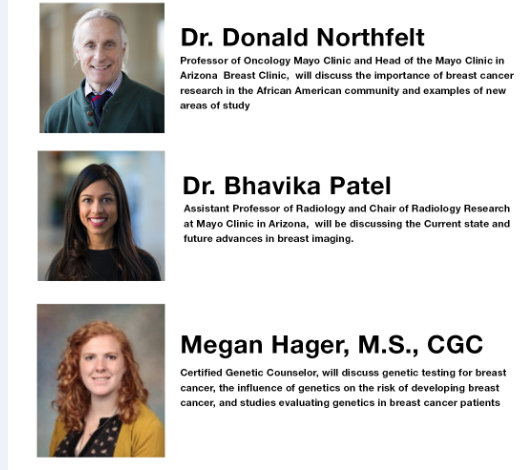 Dr. Don Northfelt, Professor of Oncology Mayo Clinic and Head of the Mayo Clinic in Arizona Breast Clinic, will discuss the importance of breast cancer research in the African American community and examples of new areas of study.
Ms. Megan Hager, Certified Genetic Counselor, will discuss genetic testing for breast cancer, the influence of genetics on the risk of developing breast cancer, and studies evaluating genetics in breast cancer patients.
Dr. Bhavika Patel, Assistant Professor of Radiology and Chair of Radiology Research at Mayo Clinic in Arizona, will discuss the current state and future advances in breast imaging.